Terrain Below Ground Drainage
Suitable for commercial, industrial, housing and public sector developments, our comprehensive range of Terrain Below Ground drainage products are specifically designed to meet building underground drainage regulations in the Middle East.
Using the latest plastics manufacturing technology to satisfy the requirements of Middle Eastern installers, our Terrain Below Ground range of plastic PVC-U drainage pipes, fittings and chambers is ideally suited for a range of applications. The range's major advantage is the simplicity it brings to the whole process: by stipulating our Terrain PVC-U pipes, you are automatically choosing a tried and tested, durable product that you can rely on.
Emirati City in Umm Al Quwain recognised the benefits of using such a durable below ground drainage system and selected the Terrain PVC-u below ground drainage system to meet their drainage requirements. Polypipe's ability to offer a superior below ground drainage solution, as well as technical support and product availability, ensured the timely delivery of the project.
Read more of our latest case studies here.
For more information, please contact our specialist team on +971 (0) 4 518 3000 or email middleeast@polypipe.com or click the contact us button below.
Contact Us
Literature & Technical info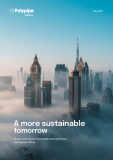 pdf (25.37 MB)
Polypipe Middle East Brochure
pdf (2.96 MB)
Terrain Underground Drainage Systems