EXPERTISE, TRAINING AND SUPPORT ON DEMAND
Polypipe offers an unrivalled combination of training, seminars, Technical Centre visits, product literature and tailored support from early project engagement and assistance to tackle specific project challenges through our robust selection of solutions and expert assistance.
Polypipe Technical Centre, Dubai
The Polypipe Technical Centre is designed to enhance knowledge and demonstrate the movement and management of water. Our state-of-the-art training facility will give you a unique insight into the future of how water can be managed more effectively in today's fast moving and developing construction industry. The Technical Centre is at the heart of our training excellence philosophy, with working product displays, installation workshop training and software training. The centre also offers complete conference facilities for planning, understanding and complying with legislation, and technical presentation.
Training and Seminars
As part of our service, Polypipe conducts seminars to give you an insight into our product ranges or a specific system in detail. We can provide bespoke seminars for individuals, groups or project needs, according to your specific requirements and they can take place at our Technical Centre, your offices or for onsite project training and installation.
Time with Polypipe may even count towards CPD hours (Continual Professional Development), required by some organisations and professional qualifications to keep skills updated and abreast with new industry developments.
Booking procedure
We recommend involving our sales and technical experts in the Middle East and India at the earliest possible stage of any project to identify your training and support requirements.
Please contact our experts on +971 (0)4 807 3000 or email middleeast@polypipe.com to book a visit to our Technical Centre or to book a seminar.
Literature & Technical info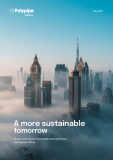 pdf (25.37 MB)
Polypipe Middle East Brochure
pdf (11.09 MB)
Technical Centre