Sustainable urban Drainage Systems
Historically in the Middle East, stormwater and wastewater have been treated as a liability and a nuisance. However, with regional population growth and rapid urbanisation, planners are beginning to recognise that managing this precious resource needs an integrated approach. This is where Sustainable urban Drainage Systems (SuDS) come in.
'Making space for water' is an integrated, forward-thinking strategy for managing future flood risk in the urban environment. Among its many recommendations is the adoption of a joined-up approach to drainage management in high-risk areas and the widespread use of SuDS to control the area at which rainwater runs off paved areas and into sewer networks and rivers.
Each project has its challenges, from turning a new desert development into a green urban environment, to building a more effective infrastructure that can cope with the excess run-off generated by heavy storm events. Assessing and managing flood risks has become an important aspect of any new project, as it helps to guide the selection of appropriate flood prevention and water management solutions.
Whether your development suffers from too much, or too little water, a SuDS planning and engineering design approach can be integrated to carefully address these challenges and provide an effective controlled detention, attenuation, infiltration or soakaway system as part of a resilient city strategy.
Our complete and comprehensive water management systems enable a one-stop approach to surface water management, treatment, attenuation, infiltration and soakaway to sewerage systems.
For more information, please contact our specialist team on +971 (0) 4 518 3000 or email middleeast@polypipe.com or click the contact us button below.
Contact Us
Literature & Technical info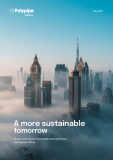 pdf (25.37 MB)
Polypipe Middle East Brochure